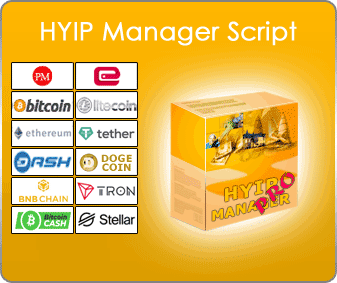 Design & Personalization:

Flexible template system allows you to change your HYIP site design with ease.

Customize your e-mails by including the member's name, e-mail, ecurrency account, registration date and other information.




Doubler Script - single (one) line matrix script
HYIP Lister Pro - script for monitoring and listing sites
Stocks Manager - venture capital management script
Golden Exchange - ecurrency and cash exchange script

Read F.A.Q. or Contact Us:



HYIP Managers
HYIP Manager script is a package for investment sites. This software helps you to create and manage your own HYIP with ease. The combination of price, features, performance and security are the best on the current market.

Automatic withdrawal, instant payment and mass payment are available in Pro version


HYIP Script Features:
Free and Paid Prebuilt HYIP Templates.
Automatic withdrawal and Mass Pay withdrawal requests
Minimum withdraw amount
Hold earnings for several days or till end of plan
Delay earnings start for several days for deposit
Internal funds transfer
Direct balance topup
Create your custom pages
SEO firendly links
Administrator can define a minimal and maximal
compounding percent.
Release a deposit before deposit plan duration ends.
Change System Time feature.
Compounding deposits.
JavaScript Calculator. Allows users to estimate theirs
earnings on the fly.
Multilevel referral program. Up to 10 levels.

Supports Bitcoin, Litecoin, Etherium, Tron, BNB, USDT, Stellar, Dogecoin,Dash,Ripple, Bitcoin Cash, ePayCore, Perfect Money, AlertPay, EuroGoldCash, GlobalDigitalPay, eeeCurrency, LiqPay, AlterGold, Webmoney, ECUmoney, RoutePay, StrictPay, SolidTrustPay, GoldMoney, PayPal, Wire Transfers and other!

Admin can specify any additional payment system, now it is possible accept NetPay, MoneyBookers, PicPay, Credit Cards, Checks with manual transaction
approvment.
Admin system tray software.
A referral program.
Platform independent.
Unlimited investment plans.
Unlimited payout plans.
Unlimited users.
Easily customizable html.
Double opt-in user registration.
Advanced statistics.
Send customizable newsletters to your members.
Turing image for login.
Ban users.
Low cost.
Lifetime support.

Totally free professional installation.
Install the system with the simple setup script or our dedicated specialists will install it for you totally free!
And many other features: Full list..